"Once you have tasted flight, you will walk the earth with your eyes turned forever skyward, for there you have been, and there you long to return"
Leonardo Da Vinci
Göteborgs Ballongklubb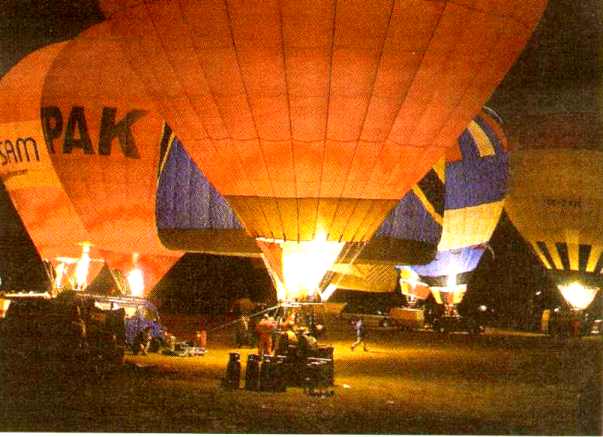 Photo courtesy of Barometern (Oskarshamns-Tidningen)
My balloon is the second from the right.
Join a balloon club
If you are interested in joining the club, please send an e-mail to .
Membership means that you get to help in the ground crew - hold a rope, carry things or drive the car & trailer two or three times - for each time you have the chance to fly. When you fly, you share the cost of the gas.
This is an equal opportunity club. The other pilot in the club (currently a trainee) is a woman.

We have some very pleasant dinner parties in winter, when we can't fly.


Shell Gas balloon game
click here
Put the cursor over the balloon to make it fly.

AGA commercial using my red balloon
This was at the top of the Swedish AGA web site.
click here for an animated version

Sloggi balloon game.
(Bad taste, but it was on the official Sloggi site!)
See how many balloons you can shoot down. click here


Balloons I have flown:
G-BVRR Lindstrand 77 (Demonstrator)
G-EZXO Colt 56 ("City 107")
G-EZVS Colt 77 ("Rose/AGA/Primus")
SE-ZDH Colt 69 A ("Göteborgs Posten")
SE-ZED Viking 105 ("SKD")
SE-ZEZ Viking 105 ("Triss")
SE-ZFI Cameron 90
SE-ZGN Lindstrand 76 ("Bingo-Lotto")

Night glow film from Öland, September 2007
The file is almost 200 Mb - use broadband if you can!

Photographs from the Bristol Balloon Fiesta, unfortunately I have never got round to setting up an image map yet.
Information for balloon pilots: these are the documents you need to apply for British registration of your balloon:
CA1 application for Registration of Aircraft or Change of Ownership
Registration Information | Registration Forms and Fees