A Major German Inventor of the Modern Age Dr.-Ing. Rudolf Hell Turns 100
Dec19, 2001
Rudolf Hell celebrates his 100th birthday today, on December 19, 2001. The technical accomplishments and achievements of inventor, engineer, and entrepreneur Dr.-Ing. Rudolf Hell continue to have a lasting impact on today's media world. Hell invented facsimile transmission and pioneered key telecommunications technologies. He is an honorary citizen of the city of Kiel. Recently, Kiel also honored him with his own street: the former "Siemenswall" leading to Heidelberg's plant in Kiel is now called "Dr.-Hell-Strasse".
Hell, born in Eggmühl in Bavaria, is regarded as one of the greatest inventors of the modern age. His avid interest in the natural sciences became apparent while he was still very young. About his years at school, Hell remarked: "I was always the best in physics, and in mathematics too. I was mediocre in languages, and poor in the subjects that required me to study a lot." With an unfaltering sense of purpose, he completed his studies of telecommunications technology at Munich Technical University. In 1927 he and his professor, Max Dieckmann, jointly presented the first television transmission and reception station at the Trade Exposition in Munich. That same year, he received a doctoral degree for a dissertation describing a "directly indicating radio position-finding device" - a precursor of today's autopilots - and two years later he invented the "Hell writing telegraph system", or Hell Recorder. This "device for electrically transmitting written characters" was adopted for use by the post office, press agencies, the police, and weather services. Hell went into business for himself in 1929 and founded his first company in Neubabelsberg near Berlin. The company developed a recorder that was sold as the Siemens-Hell Recorder starting in 1931. A recorder for radio communications was developed and in 1934 began to be used by news agencies. More than 50,000 units were supplied by the end of World War II. In the last days of the war Hell's production facilities by now in Berlin-Dahlem and Teltow were destroyed by bombing by Allied forces.
A new start in Kiel after the war
The end of the Second World War temporarily halted the young inventor's meteoric career, after he had successfully built up his first company in Berlin. Then, on January 1, 1947, he ventured a fresh start in Kiel-Dietrichsdorf, having always felt drawn to the sea. His first employee, Christian Sütel, recalls: "At that time I took care of everything - I was the service engineer, salesman, designer, purchaser, and marketer, all rolled into one." Hell himself later commented: "I have never done anything just to earn money. I was interested in progress and practical applications." As early as 1948, Hell developed the first device for remotely transmitting images, thus laying the foundation for today's fax machines. Hell's inventions were based on the simple but ingenious approach of breaking down letters and characters into digital elements such as dots and lines.
In 1951, Hell began the first tests of his "Klischograph", a device for electromechanical engraving of printing blocks that was to revolutionize the graphic arts industry. The "Klischograph" was ready for market in 1954, when it began its victorious march into newspaper publishing houses. It was first presented to the public at Drupa 1954. There, Christian Sütel engraved printing blocks for Heidelberg's booth, which were then used to print its trade show newspaper. Even German President Heuss was enthusiastic when he saw his photograph in print just 30 minutes after it was taken. Additional new inventions then followed in rapid succession: the "Colorgraph" scanner in 1963, and in 1964 the "Digiset" for digital reproduction of text and pictures and the "Pressfax" for remote transmission of entire newspaper pages.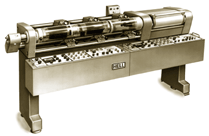 Many Awards for a Talented Inventor In 1967, Dr.-Ing. Rudolf Hell received the Grand Cross for Distinguished Service of the Federal Republic of Germany, in 1968 he was awarded the Ullstein Ring and the Culture Award of the city of Kiel. In 1971, he began developing the world's first fax machines for office applications. Because his company had meanwhile grown too large to continue operating as a general commercial partnership, on April 1, 1971, he converted it into a limited-liability corporation with Siemens AG as the majority stakeholder.
Hell has received numerous other distinctions, such as honorary citizenship of the city of Kiel in 1979 and the Grand Cross for Distinguished Service with Star of the Federal Republic of Germany in 1980. That same year, he unveiled his "Chromacom" electronic image-processing system. In 1981 his company, Dr.-Ing. Rudolf Hell GmbH, was acquired by Siemens AG as a wholly owned subsidiary. Hell himself, who had until that time been the chairman of the company's supervisory board, then served as honorary chairman of the supervisory board.
Rudolf Hell was not only an ingenious inventor but also an entrepreneur committed to serving society. For example, he built housing for his employees and set up a retirement insurance scheme for all of them. Says Christian Sütel: "Working for a man like Dr. Hell, whose head and desk drawers were full of ideas, was a real pleasure for me and most of my colleagues," thus characterizing the "Hell family".
In 1990 Hell, who had been admitted to the Inventors' Gallery of the German Patent Office in Munich three years before, withdrew from active involvement in his company's business activities. That same year, his company merged with Linotype AG in Eschborn near Frankfurt to form Linotype-Hell AG, which was later acquired by Heidelberger Druckmaschinen AG (Heidelberg) in 1997. Since then, Heidelberg's digital heart has been beating in Kiel; it is there that prepress and workflow products are made and the NexPress 2100 digital color printing system is assembled.
Back