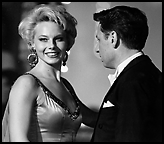 The Last Dance (Sista Dansen)
Sweden 1994 114 MINS
Sunday October 15 9:15PM Sequoia I $7.50
Director/Screenwriter Colin Nutley
Producer Katinka Farago
Camera Jens Fischer
Editor Perry Schaffer
Music Eddy Grant
Sound Eddie Axberg
Cast Helena Bergstrom, Reine Brynolfsson, Ewa Froling, Peter Andersson
Print SourceSandrews Film AB.
The talent and humor of STRICTLY BALLROOM meet the intensity and pathos of THEY SHOOT HORSES, DON'T THEY? in this new film by Colin Nutley (HOUSE OF ANGELS). The story opens with Liselott lying dead under a pier in Blackpool, England, then retracts to events leading up to her death. Romance has left the relationship of Tove and Claes, who have unsuccessfully tried to conceive a child for two years. Even worse, they continue to lose first place in dance competitions to their friends, Liselott and Lennart, who are consummate dancers. As layers of the couples' interrelationship peel away, we see that their lives are constructed of contrasts: rich vs. poor, crazy vs. sane, elation vs. disappointment. Dancing is the device that holds the gruesomeness of reality at bay. Even we allow ourselves to be overwhelmed by the sheer magic and beauty of the dance in this dark, witty gem.
K. Lund

Rants and Raves




Home